In the last blog, we talked about how Christmas was celebrated in Japan. Although they don't make a huge deal of Christmas, they really go all out on their New Year celebrations. And I MEAN all out!
New Year celebrations, or Shogatsu, are rather like our Christmas. Steeped in tradition, they have a national holiday, eat lots of food, decorate their houses inside and out and the celebrations are based around their Shinto religion. Gifts of money to children are given and the time is used to visit friends and family. There's lots going on, so let's have a look at how the Japanese party like it's 1999....
December 31st is considered a very important day in Japan as it symbolises new beginnings. This is the time when spring cleaning takes place to purify the household. People decorate their homes with lucky talismans, wreaths, pine and bamboo kadomatsu and shimenawa, a type of braided rope, to bring luck and welcome the Gods into their newly cleaned homes.
Lets talk food. CK's fave subject :)
On New Years eve it's traditional to eat soba noodles to represent longevity. This is also the last time the housewife can cook for a few days. It's considered taboo to light the hearth for cooking in the first three days of New Year, unless you're cooking Zoni, a Japanese soup with mochi.
This is the one and only time the lady of the house gets a few days off. That is, after they have made the delicious fayre that's eaten over the holiday period.O-sechi are traditional foods which are prepared in advance to last for a few days. These meals resemble bento boxes and are normally eaten cold and consist of various fruits, vegetables, fish, bean paste, egg and seaweed. They're cooked and prepared using preservative methods such as broiling, pickling and sugaring. They look delicious but I have been informed by a native that they're really not that nice!
These are normally eaten once the bells of New Year have rung.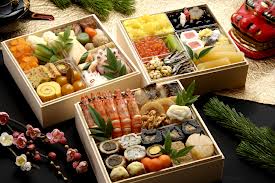 No New Year is complete without visiting a temple or shrine. Rather like us standing around the nearest landmark with a clock, visiting a temple to hear the bells ring in the New Year is the way the Japanese roll. They also take along offerings to the Gods in the form of fish, fruit and vegetables. Prayers are said for friends and family. Those who are unable to make it to a temple or shrine can do this at home and often many homes have small shrines or their own.
Once midnight comes around, the bells are rung 108 times. This is to symbolise the 108 sins of mankind according to Buddhist belief and of course, to ring in the New Year.
Ri
The first sunrise of the New year is considered to have special supernatural powers. Picking a good vantage point to watch it and pray is a popular practise, as it has been for centuries.
Women often use this time of year to dress in colourful Kimono to celebrate, particularly when visiting a temple.
J
How do they fit it all in, you ask? Well, you know I said they like to party? New Year is normally an all-nighter for most, having a party or family gathering in the evening, visiting a temple to ring in New Year, home for some o-sechi with the family then off to catch that amazing sunrise. Beats spending it in a busy nightclub then waking up with a sore head and an empty wallet!
If that isn't enough, then there's Otakiyage. It's the Japanese version of bonfire night! This is usually held around 2 weeks after New Year and is the ceremonial burning of the New Year decorations and talismans. It's said to send off the Toshogami, the Gods who bring in the New year. A similar event, Dondo Yaki, is the same ceremony with the addition of toasting mochi for health, it's literally tying up the loose ends of the celebrations and moving forward into the new year.
Otiyage at a temple (left) and Dondo Yaki (right)
New Year is a time when you really see the traditional Japan come alive. The people have time to relax, spend time with loved ones and really indulge in the true Japan that is often lost in modern living. Never mind Hogmany or a few fireworks stuck to a big wheel in London, if you really want a good knees up then pay Japan a visit for New Year!
On that note, from everyone here at CutesyKink we would like to wish our friends, yes that's you, a happy and prosperous New Year!