As we are tucking into our Turkey and ripping open our gifts on Christmas Day (praying that our CutesyKink wishlist is amongst the colourful pile of presents!) we forget that not everyone in the World celebrates Christmas the way we do.
Only a fraction of Japan, around 2-3%, are Christians. the rest follow the Shinto or Buddhist religions. This means that Christmas is celebrated in it's own unique way - as only the Japanese know how to! Despite Christmas being a religious celebration, Japan has adopted pretty much all of the traditions - with the odd twist - without the christianity.
Let's take a look at how Nihon-jin rock Christmas......
Traditions:
The Christmas season although celebrated, isn't classed as an official holiday. The focus is also more on Christmas Eve as it is in Germany where gifts are exchanged, celebrations are held and a lot of focus is on couples. It's often used as a time for loved up twosomes to go out for a meal, take in the sights and exchange tokens of love.
Decorations:
They sure do like their lights and christmas is a good excuse to put up a good illuminated display. They have christmas trees and the usual festive decor. They are always one step ahead though. How about this in your lounge?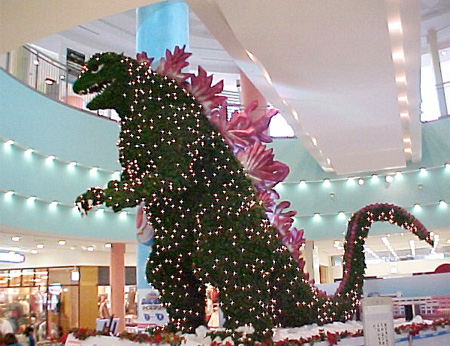 Seen in many places inside and outside, this particular festive Godzilla was in a shopping centre in Japan. How about Baltan Seijin from Ultraman?
Food:
Nope, the Japanese don't sit round to a turkey roast with all the trimmings. Christmas is the time for.......KFC!!! Yep, you heard right. Kentucky Fried Chicken. For those who follow us on Twitter, you would have seen a post from a while ago of some KFC with the phrase "A Japanese christmas dinner". I shall now explain all!
There's many theories of how this trend came about but it mostly came from a big advertising campaign from KFC in the 1970's which was launched around Christmas. Turkey was not readily available and chicken would be a good alternative. Seeing a niche in the market KFC began promoting fried chicken as a christmas meal, thus starting a trend which is now tradition. You can pre-order your "party barrel" which consists of chicken, salad and a cake. Although a traditional christmas cake in Japan is usually a sponge cake piled high with strawberries, cream and a santa drowning in it! All eaten on Christmas Eve.
Gifts:
Its all about the money, folks. Because the focus is more on couples (don't worry, the kids don't miss out!) there is more focus on high end, pricey presents. Advertising goes full throttle to 'show your better half how much they mean to you by how much you spend'. presents are very much personal rather than practical. Meals out, extravagant gifts and hotel rooms, it's all very reminiscent of a certain day in February. You won't be surprised to know either that September/October has a very high birth rate in Japan!
Christmas in Japan is not much different to anywhere else when you really look at it. Apart from foregoing the days off and nativity scene they still have a bit of a do with presents, food and lights. My only complaint? That we don't get christmas cakes like this: