The word Kawaii has taken the World by storm. Having made it into the Oxford and Collins dictionary, it's now a frequently used word in our language.
So, what is Kawaii and where does it come from? Kawaii is a Japanese word used to describe anything 'cute' and is derived from a phrase meaning 'blushing face'. It describes anything and everything that is cute, from food to style to attitude. Japan love their characters and have many Kawaii mascots for their cities, such as Kumamon for Kumamoto and Eco-chan for Kyoto, so it's only natural that the cuteness is spread throughout their daily life.
Fashion such as fairy kei, sweets such as Hello Panda biscuits and even your lunch, the good old Bento box, maxed out on Kawaii with DIY kits to make your rice balls look like Hello Kitty! Sanrio , the 'parents' of such characters as Hello Kitty, My Melody, Cinnamorrol and Little Twin Stars have a huge family of cute members.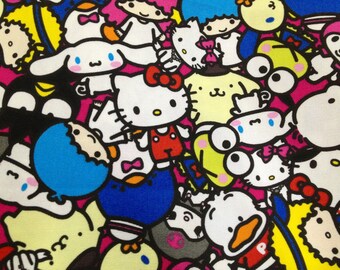 Fashion and J-Pop are hugely influential. Styles such as Fairy Kei, Sweet Lolita, Kawaii and look no further than Kyary Pamyu Pamyu and idol groups such as AKB48 for J-Pop cuteness.
In fact, I could go on. Japan really are the masters of Kawaii and its apparent in many, many aspects.
You're probably getting the idea now.
I see many questions about Kawaii and the style, one which is prominent is "How can I be more Kawaii?"
There are lots and lots of articles out there on how to make yourself look "Kawaii" and many of them are informative and helpful. However, being Kawaii isn't just about the superficial element. Kawaii is who you are. Your personality, your outlook, your attitude. You make your own Kawaii.
Kawaii people are on the inside what you see on the outside. They're cheery, positive, colourful and fun. They glow like rays of sunshine. They're different, unique and are not afraid to show it. It really is something that's in you as a person and it shows in your choices. If you're reading this, chances are there's already a few Kawaii rays of sunshine just waiting to break through. We NEED Kawaii people to spread the happiness.
If you find yourself looking at high street stores with indifference yet yearn for the bubblegum ball leggings you see in a magazine or you make a bee line past the 'grown up' section to the childrens brightly coloured accessories then read on......
Embracing our inner Kawaii is one of the most liberating things you can ever do. After years of loving the kids sections in clothing and accessory shops, being drawn towards anything brightly coloured and prints with rainbows, stars and all manner of other cute stuff on it I decided at the ripe old age of.......well, *cough cough* let's just say I'm older than the average J-fashionista......I decided that enough was enough. I WILL have that rainbow striped hoodie with a pink tutu skirt and rainbow flatforms! I love dressing in the clothes I wear, they're cheerful and I can express myself. Some days I will go crazy cute, others I will be a pastel princess and sometimes I will completely mis-match. It makes me feel good about myself and I love the feeling you get of being an individual, saying to the World "This is me and I'm not afraid to show it!!"
Being Kawaii and being yourself gives you that inner and outer confidence that can outshine the black clouds. It goes deeper than the blue shoes you wear with the pom pom legwarmers, it's more colourful than my rainbow flatforms, it's cuter than your alpaca gloves, it's kinder than the smile on your emoticon screensaver and it glows brighter than the stars on your hairclip. Being Kawaii is being you. Being true.
So get out there with your bows, colours, pom poms, layers and hair slides. Show them your glow.
After all, the Kawaii Army needs you to spread the love......and the rainbows......and the sunshine........