January is now here and many minds turn to the yearly calendar. Yessiree, it's time to book those trains, coaches, hotels hostels and tickets. It's EXPOOOOOO TIIIME!
Expos are exhibitions based around a certain subject. For example, MCM Comicon is based around the comic and film geek culture. They have signings, cosplay, a Japanese area, food, stalls and various activities and shows. It's basically a weekend of everything you love under one roof. Most go there to meet up with friends from around the country, hang out, shop, take in the shows and eat food. Oh, and have your photo taken lots!
I'm sure most of you reading this have attended at least one, be it a weekend or just a few hours. I myself have been to quite a few and although not quite a veteran, I've gained some valuable experience and learned a few lessons on the way. My blog today is a little survival guide featuring tips on how to get in and survive, whether it be for a day or a weekend. I will also compile a little "at a glance" list of UK expos that you can add to your diary.
So without further ado, here's my guide :)
Before the event:
Planning is essential when attending an expo. That way you know where you are and at what time, with the right equipment. Before you do anything, decide on your motive for going. Do you want to do a bit of shopping? Go for a particular event/stage show or do you want to go and hang out to soak up the atmosphere? As well as distance, that will influence hotel and travelling. I know of people who live in the vicinity but stay at the nearest hotel as the transport links get busy and/or they have a very intricate cosplay which needs the minimum of travel and bustle. Join the various facebook groups that are linked to these events as you can get updates from other expo-goers such as queues, warnings about possible counterfeit stuff etc. They're also great to get advice from others who have been there before.
Tickets, travel and accommodation:
Check and book your travel and accommodation as soon as you have dates and venues. It gets more rare and expensive the longer you leave it. If you're travelling a long distance, you may want to stay an extra night so you don't have to rush or lug your bag around on the last day of the expo.
Book tickets asap after travel and accommodation. I recommend fast track tickets (at the events which sell them) for those who have any anxieties about queueing for a long period of time or for anyone with a complicated cosplay or fashion. I've not always had to use them but it's worth the peace of mind for some.
Plan your journey ahead of time if taking public transport to the venue, allowing for delays that high volumes of people travelling can cause.
What do I take?
If you're staying overnight then I would take a slightly bigger bag, to allow for any shopping you do :)
Don't be afraid to jump in and join us with a J-fashion or Lolita co-ord. Perhaps some Cosplay? If it's your first time then do take enough clothing in case you decide not to wear it. Don't forget to check the weather report so you can take weather appropriate clothing (ok, I know, I sound like your Mother. You'll thank me though, when you're stood outside in your warm coat!
Make sure you have plenty of money. There are usually cash machines at the venues but these charge for using them, can get very busy and are limited. I usually see them with the 'Out Of Service' sign on them because they're empty!
Think about maybe a bag of sorts where you can safely store your money. Sadly, pickpockets take advantage of the crowds at places like this. Think about incorporating a money pouch into your cosplay or j-fashion. I've seen some really good ones!
Camera! Don't drain your phone battery.
On the day:
Most people arrive early so bear that in mind if you have a standard ticket. You may have to queue for a couple of hours but the queues do tend to move quite quickly. Personally I like to get there early and be in front of the queue, you get less squashed and you get more out of your day.
Take a bag with a bottle of water, some form of ID and a lightweight jacket at the very least. Other recommended items are an umbrella (acts as a great parasol too!), a medical card or bracelet in case you have any medical conditions and a fan. I cannot re-iterate enough, the temperature inside and outside of those venues really varies and it can go through the roof as quickly as it drops. Do be prepared.
Once inside:
Grab a programme, grab a drink and go into a corner or sit down. Take 10 minutes to plan your day/weekend out and familiarise yourself with the layout. Some stage events are ticketed so you can go and book your time slot well in advance. That way you won't miss anything you want to see and you can really make the most of your time there. It goes very quickly.
Factor in frequent rest breaks and remember to eat and drink! It's important to keep up with your fluids as those places, even in Winter, can be hot and dehydration will make you feel pretty rubbish.
Shop around and don't be afraid to spend money. Believe it or not, I often find things cheaper at expos! Many stalls do 'expo specials' so take advantage of them.
Do be clued up on your goods though. The reputable expos do their best to keep fakes out but more often than not, I see reports of someone selling what appears to be counterfeit merchandise.
Don't be afraid to ask a stallholder if they have a particular item you're looking for. If it's not on display or the one you saw has been sold, chances are they have another or can get hold of one for you.
Going to see something on stage? Yes, I know you don't want to queue again or watch someone cooking yakitori (well, I would...yummy!!) but sometimes it's better to get there early so you can get a seat.
Photos. So many photo opportunities. If you're in Cosplay or J-Fashion (if you don't know already) then it's good manners to ask, and be asked, to take a photo. If you're taking photos, always ask the person in character if you can take their photo. Alternately if you're in character, you're likely to be asked not only by the public but possibly by by press or exhibitors. These people usually wear badges specifying this. It usually means that your photo may end up on their blog, website or other publication. Don't be afraid to refuse if you don't wish to have your photo taken and don't be afraid to ask for a business card so you can see where your picture will be published :)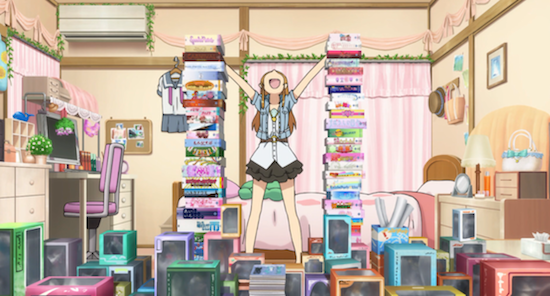 Do remember, your safety is paramount. It's easy to get caught up in the excitement and atmosphere of an Expo, particularly if you're new to them. Practise the same rules that you would in everyday life such as going and/or meeting with established friends. Don't give out any personal info about yourself to strangers such as addresses, phone numbers, where you're staying etc especially if you're on your own or in a very small group. Expos are great places to meet friends but just start with swapping email adresses, if you add them to FB make sure you have an 'acquaintences' group which hide your personal details from them until you get to know them better. Many people have 2 facebook accounts these days, one personal one for family and close friends and one with their expo friends and contacts which contains maybe some expo pics but none of the personal information which would identify where you live etc.
There's always security around if you encounter any problems.
The aftermath......
The buzz you get after attending an expo stays with you for days, if not weeks! It's a truly amazing experience which sees regular people attending as well as attracting more people every year. If you've done a day, you'll probably feel a bit tired. If you've done a weekend, well done!! I bet you've met some wicked people, tasted some amazing food, taken some awesome photos and come back with some fabulous merchandise. I have to say though, for me certainly, attending a weekender is thoroughly exhausting and leaves me flat on my back (as well as skint!). Then again, I'm an old fogey so it's probably a bit easier the younger you are. However, even the most hardy of people i know have a similar issue so, how do you get over the 'Expo Excess'?!
Plenty of water, plenty of sleep, eat well. Oh, and plan the next one :D
Or maybe you could just do this for a few days...
They forgot 'eating'!!
Ok, I promised an expo calendar didn't I? Well, there's a lot here to take in and I really hope that even the more experienced expo goers have picked something up from it, so I shall draw up a list and it will go up in the next couple of days. It will be a simple, straightforward absolutely Kawaii one of the Expos in the UK,print it off and adorn your wall with it :)
I'm now off to play games, read manga, watch some anime and sleep. And eat. :D